Air Testing Lab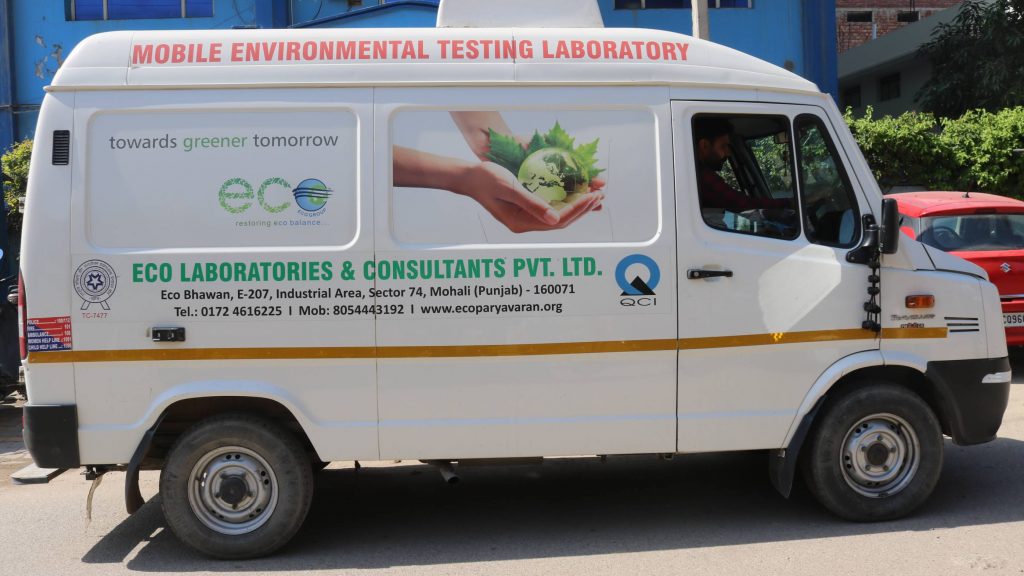 About Air Testing Lab at Eco
We carry out all sorts of Ambient Air monitoring and tests from our NABL (TC-7477) accredited Air Testing Lab in Mohali, Chandigarh, as per all the specifications and requirements to comply with National/International Standards and scope of Accreditation by NABL (TC-7477). Pure, ambient air fosters enhanced health for all of us and reduces the risk of minor allergies, headaches, eye burn, and also disorders like cancer, Sick-Building Syndrome (SBS). Some of the first steps in estimating the air quality of any environment are Air Quality Monitoring/Air testing, which includes both Indoor Air Quality Testing and Ambient Air Quality Analysis.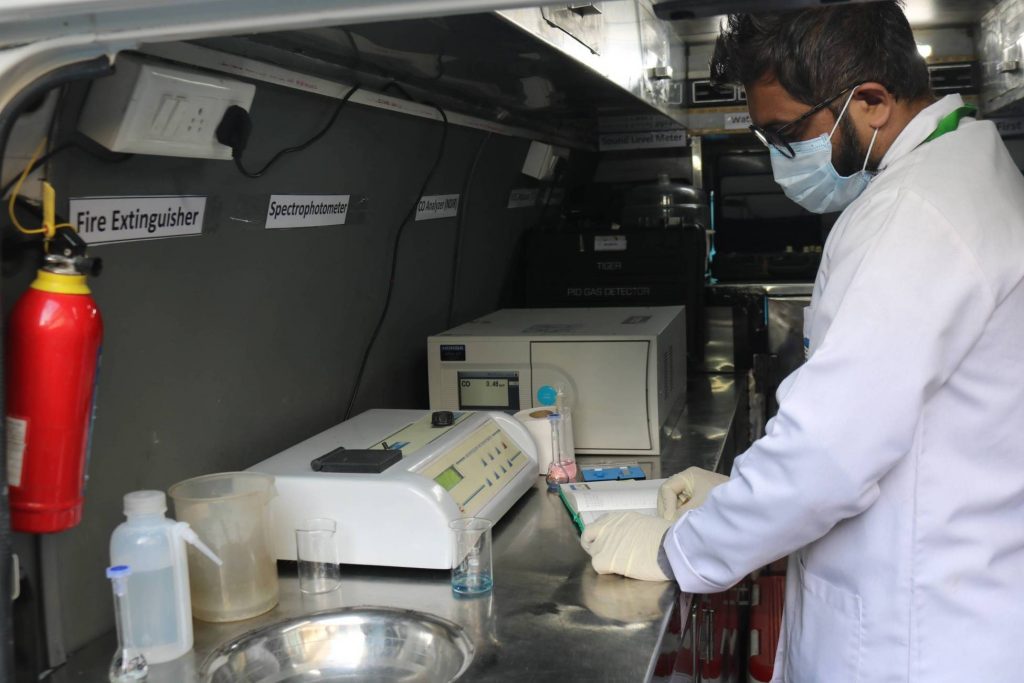 How Air Testing Lab Helps
With the phenomenal growth in the industrial sector and infrastructure across the world, the overall health of our people is at a risk due to increasing Volatile Organic Compounds (VOCs) in the air, along with many detrimental free radicals beyond the unhealthy levels in the air. The outdoor atmosphere affects our internal air quality, making the employees in the workplace and our family members at home suffer from many diseases and disorders, which makes air testing of utmost importance. Therefore, regular Ambient Air Quality Testing and Indoor Air Testing Quality testing with the help of a professional air testing lab ensure that our people are living in a safe environment where air quality is as per the standards of healthy living.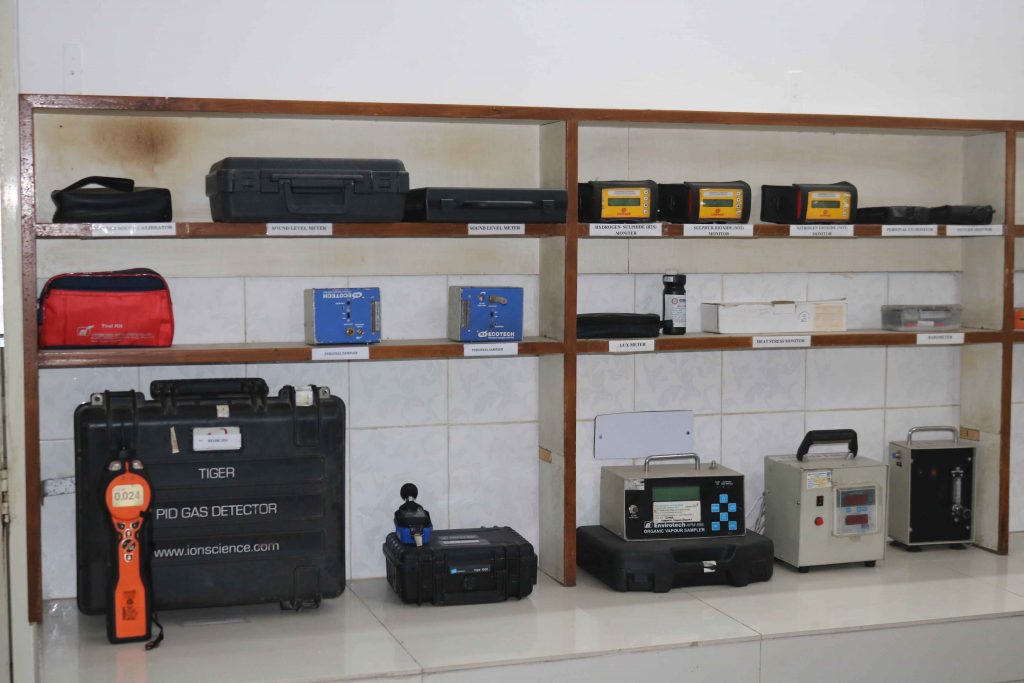 Key Highlights of Air Quality Testing Laboratory
Mobile Environment Testing / Air Testing Laboratory
Equipped with facility of Online & Real Time Testing for Air, Water, Stack/ Source and Fugitive Emissions to ease
Onsite & Real Time Testing
Instant and Accurate Data
On spot Results for Review and Decision Making
Electronic Reporting
Nationwide coverage
Instrument Systems Tailored to Project needs
Customized Quality Program
Aerosol Dust Monitoring (TSI SidePak™ AM520i)
Online and Real Time Measurements of Dusts, Fumes, Mists, Smoke and Fog in Ambient & Indoor/ Work Zone Environment
Instant Data for PM10, PM5.0, PM2.5, PM1.0 and PM0.8 (DPM)
IECEx, ATEX, CSA, and IECEx-SIM Certified Intrinsically Safe for Div. I (Class I: A, B, C, D; Class II: E, F, G & Class III) to Compliance in Volatile Environments containing Flammable Gases, Vapors, Fibers and Dust
Quick Evaluation of Worker Exposure to Identify and Remedy Sources of Contaminants & Ability to Make Instant Changes
Applicable for Real-Time Sampling in a variety of Workplace Environments as Aerospace, Automotive, Bulk Material Handling, Chemical Manufacturing and Processing, Confined Spaces, Construction Sites, Industry, Foundries, Healthcare, Manufacturing, Mining, Oil and Gas, Petrochemical, Pharmaceutical, Power Generation and Transportation
Our Key Clients: Centrient (DSM Sinochem) Pharmaceuticals, Sun pharma, Hindustan Unilever, Colgate, Dabur, Mahindra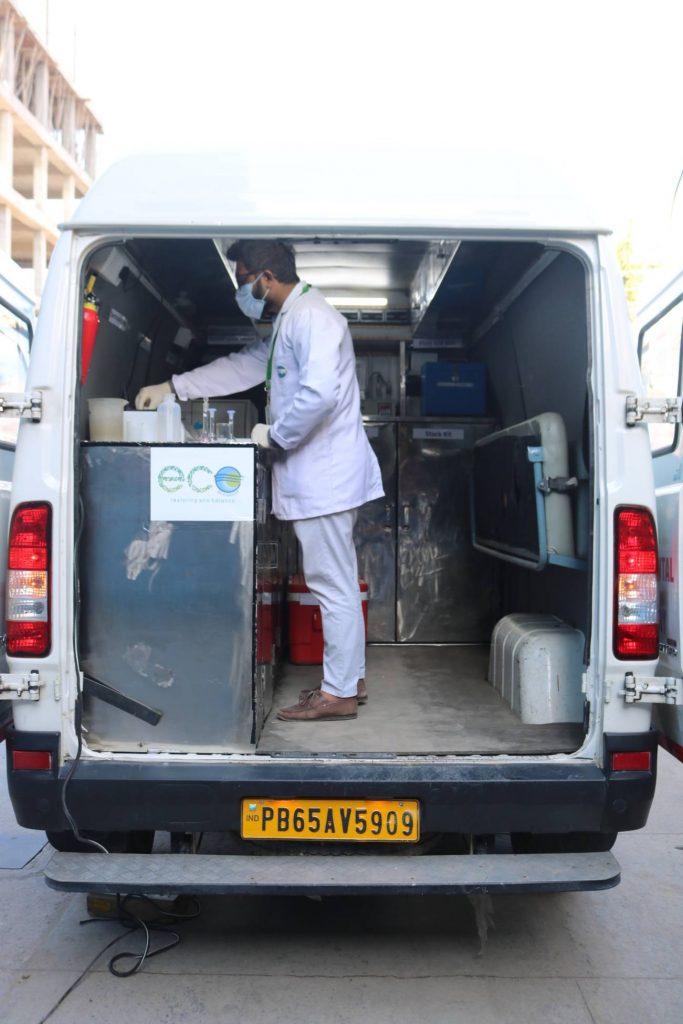 CO Measurement (NDIR CO Monitor – Horiba APMA370)
Online and Real Time Measurement of CO in Ambient & Indoor/ Work Zone Environment
Approval according to EN 14626: TÜV 936/21204643/B
Non-Dispersive Infrared (NDIR) Absorption Technology
Cross Flow Modulation Principle for Stable Measurements & Critical Orifice for constant Flow
Interference compensating Detector to suppress Moisture influence with Pressure & Temperature compensated Data
Measurement Range: 0-100 ppm, Lowest Detection Limit (LDL): 0.02ppm
Quick Evaluation of CO Exposures to Identify and Remedy Sources of Contaminants & Ability to Make Instant Changes
Applicable for Real-Time Sampling in Workplace Environments, Education and Research Institutions, Energy and Environment, Industrials and Transportation
VOC Emissions Monitoring (VOC Monitor – PhoCheck, Ion Science, UK)
Rapid, Accurate, Humidity-resistant VOC Detector with Detection Range: 0-20,000ppm
PID Technology widely used and trusted in Major Gas Detection Worldwide
Intrinsically Safe ATEX, IECEx and CUL Approvals for Class 1 & Division 1 (Groups A, B, C & D, T4)
Measurement of approx. 800 VOCs and Toxic Compounds
Applications: VOC detection in Industrial Hygiene, Health and Safety, Sterilization Processes, Environmental Monitoring, Personal Dose Exposures and General Leakage in Fuel Storage
Quick Evaluation of VOC Exposure to Identify and Remedy Sources of Contaminants & Ability to Make Instant Changes
Applicable for Real-Time Sampling in Workplace Environments as Oil and Gas, Petrochemical, Pharmaceutical, Chemical Manufacturing and Processing, Automotive, Aerospace and Healthcare
Our Key Clients: Centrient (DSM Sinochem) Pharmaceuticals, Mankind Pharmaceuticals and Sun pharma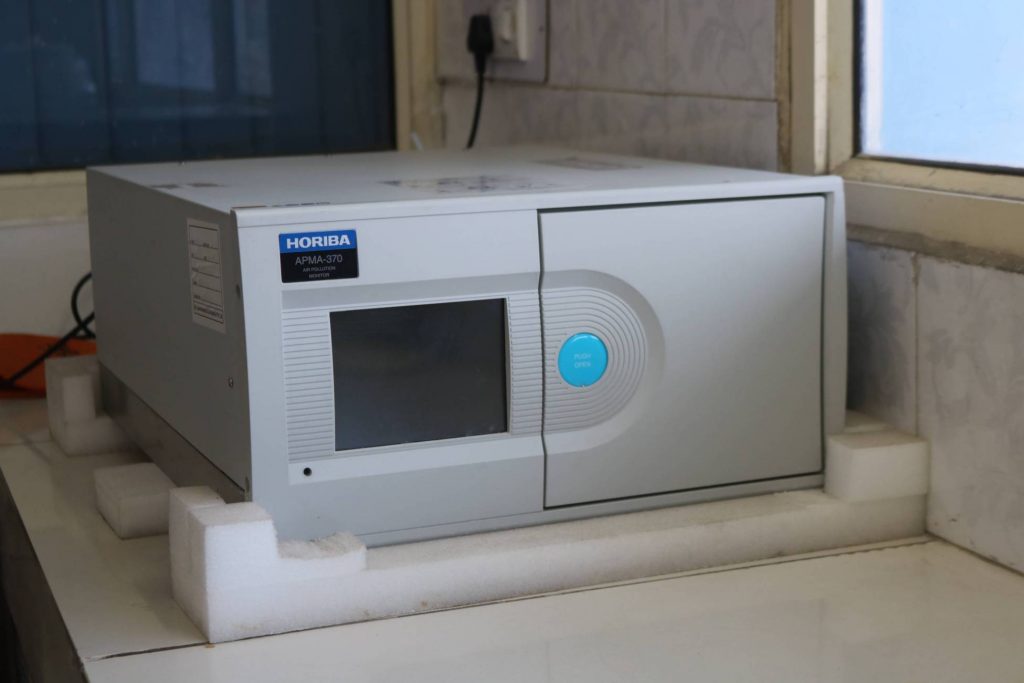 Noise Exposure/ Dose Monitoring (Noise Dosimeter – SVANTEK SV104IS)
Online and Real Time Monitoring of Noise Dose/ Exposure Levels in Work Zone Environment
1/1 Octave Band Real-Time Analysis and Audio Events Recording Functions for Occupational Health And Safety
Robust 1/2″ MEMS microphone with range 50-140dBA, auto calibration and TEDS memory
intrinsically Safe ATEX and IECEx Certified to Compliance in Volatile Environments containing Flammable Gases, Vapors, Fibers and Dust
Meets ISO 9612, OSHA, MSHA, and ACGIH standards
Quick Evaluation of Worker Exposure to Identify and Remedy Sources of noise & Ability to Make Instant Changes
Applicable for Real-Time Sampling in various Workplace Environments as Aerospace, Automotive, Bulk Material Handling, Chemical Manufacturing and Processing, Construction Sites, Industry, Foundries, Healthcare, Manufacturing, Mining, Oil and Gas, Petrochemical, Pharmaceutical, Power Generation and Transportation
Validation/ Calibration of Online Continuous Monitoring Systems (Emissions/ Effluents)
As per CPCB Guidelines for Continuous Emission Monitoring Systems (July 2017), Calibration Services of CEMS are done as
Validation of CEMS for Particulate Matter (PM) by Isokinetic Sampling Method and Gaseous Pollutants by HORIBA PG350 (TUV approved) Flue Gas Analyzer
Recommended for 17 categories of highly polluting industries as Pulp & Paper, Distillery, Sugar, Tanneries, Power Plants, Iron & Steel, Cement, Oil Refineries, Fertilizer, Chloral, Alkali Plants, Dye & Dye Intermediate Units, Pesticides, Zinc, Copper, Aluminum, Petrochemicals and Common Hazardous & Biomedical Waste Incinerators
Validation/ Calibration of Online Effluent Monitoring System for pH, BOD, COD & TSS etc. by CRMs and Chemical approved and standard methods
Flue Gas / Source Emissions Monitoring
Online Continuous and Real Time Monitoring of Flue Gases from Combustion/ Source Emission sources
HORIBA PG350, Japan – Online Continuous and Real Time Flue Gas Analyzer
MRU Optima7, Germany – Online Real Time and Instantaneous Flue Gas Analyzer
Milk Powder Emission Loss Monitoring in Dairy Industry
Quantification of Milk Powder Emission Loss from Milk Dryers
Quantification of Fugitive Emission Losses/ General Leakage
Our Key Clients:

Umang Dairies Ltd (Uttar Pradesh)
Verka Dairies Ltd (Punjab)
Validation of Indoor Environment in Hospitals/ Operation Theaters
As per ISO 14664 standard, following test services are delivered
Indoor temperature & humidity – Temp. 21±3ºC & RH 20 to 60%
Air Change/ Ventilation Rate – Total Air 20 per hour & Fresh Air 4 per hour
Air Velocity at outlet of terminal filtration unit /filters (diffuser/ceiling array) @ 25-35 FPM
Pressure Differential (∆P) – Positive (≥2.5 Pascal or 0.01 inches of water)
Validation of HEPA Filters by DOP (Dispersed Oil Particulate) /POA (Poly Alpha Olefin) testing
Ventilation Rate, Occupational Health & Safety and Heat Stress Monitoring
As per the occupational compliances of OSHA/ NIOSH/ Indian Factories Act (1948) and other regulatory bodies, the following test services are available as
Occupational Health and Safety in Work Zone Area
Industrial Hygiene in Work Zone Area
Heat Stress in Work Zone Area
Ventilation Rate in Work Zone Area
Illumination Levels/ Lux Monitoring
ROUTINE ENVIRONMENTAL MONITORING SERVICES
Ambient / Indoor / Work zone / Fugitive Emission Monitoring
Stack / Source Emissions Monitoring
Water & Effluent Water Quality Monitoring
Ambient / Work zone/ Source Noise Quality Monitoring
Soil / Sludge / Hazardous Waste Monitoring
Dust Fall Rate Measurement
Industrial Hygiene, Ventilation Rate, Occupational Health and Safety
Validation & Efficiency Testing of Industrial Process / APCDs
Calibration of Online Continuous Emission Monitoring Systems (CEMS)
Dioxins and Furans Monitoring for Industrial Plants & Incinerators
Chemical Testing for Air, Water, Soil, Sludge, Hazardous Waste & Microbiology
EIA/EMS Studies for Environmental Clearance and CTE / CTO and Feasibility Repots
Baseline Monitoring, Six monthly and post EC Compliance Studies