Solid Waste Management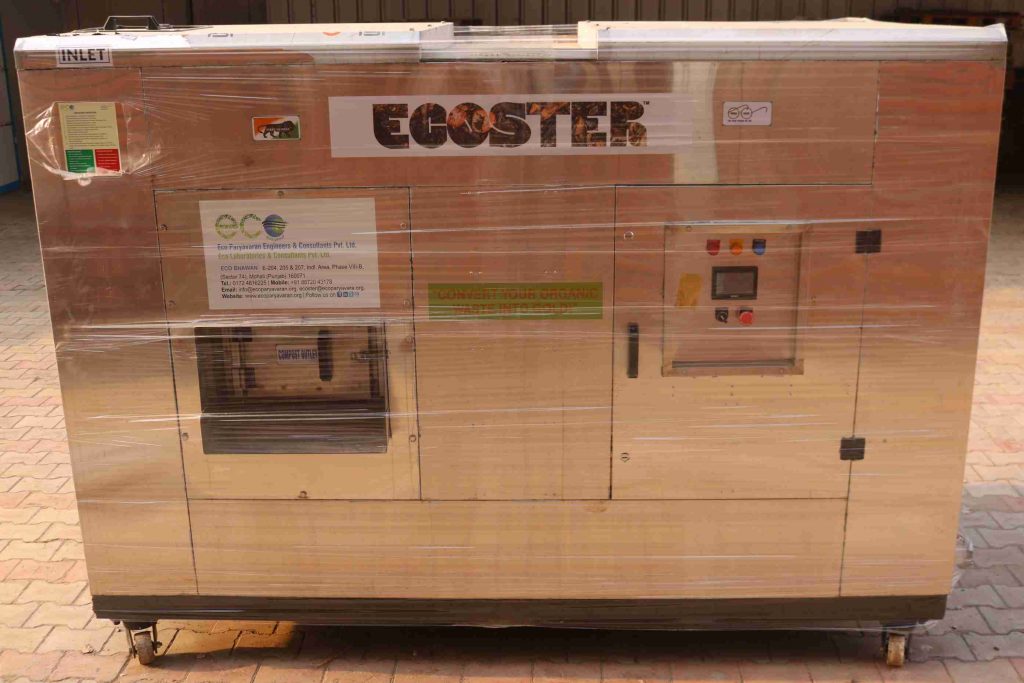 Solid Waste Management
Having earned the reputation of India's top organic waste converter manufacturers, Team Eco boasts of the world's smartest Waste Composting Machine, i.e., ECOSTER! This beautiful & efficient composter can convert biodegradable waste into biomass in just 1 hour and compost in 7 days. It treats organic waste using both mechanical & biological treatment using state-of-the-art Bio-N culture. The compost produced is rich in Nitrogen, having a low C/N ratio meeting Fertilizer Control Order (FCO) 2013 standards. 'ECOSTER' is instrumental in reducing the net CO2 emissions, thereby decreasing your carbon footprint.
ECOSTER: Organic Waste Composting Machines by Eco
ECOSTER Organic Waste Composting Machine is not just a machine, in fact it is a golden feather in the cap of Eco Group that serves entire sectors pan India. Eco Paryavaran is the leading environmental consultancy and the largest supplier and manufacturer of organic waste composting machines in India.
Convert your organic waste into gold with ECOSTER!
About ECOSTER | Organic Waste Composting Machines
ECOSTER is developed after rigorous R & D of 6 years.
It is a fully automatic Bio-Mechanical machine.
It converts the biodegradable waste into biomass in just 7 days and reducing its volume to almost 65-80% of original.
After 24 hours, the biomass is removed from the machine, which then turns into compost naturally and is ready for use in fields, potted plants etc.
The compost produce is rich in nitrogen and having C/N ratio meeting the standard norms.
ECOSTER MEETS THE INDUSTRY STANDARDS
| | |
| --- | --- |
| PARAMETRES | PHOSPHATE RICH MANURE |
| Arsenic (mg/kg) | < 10.00 |
| Cadmium (mg/kg) | < 5.00 |
| Chromium (mg/kg) | < 50.00 |
| Copper (mg/kg) | < 300.00 |
| Lead (mg/kg) | < 100.00 |
| Mercury (mg/kg) | < 0.15 |
| Nickel (mg/kg) | < 50.00 |
| C/N ratio | < 20 |
| pH | 1:5 solution |
| Moisture, % by Weight | < 25.0 |
| Bulk Density (g/cm3) | < 1.6 |
| Total organic Carbon, % by weight | < 7.9 |
| Total nitrogen, % by weight | < 0.4 |
| Total phosphate by weight | < 10.4 |
| Colour | – |
| Odour | – |
| Particle size | Min 90% material should pass through 4.0 mm IS sieve |
| Conductivity | < 8.2 |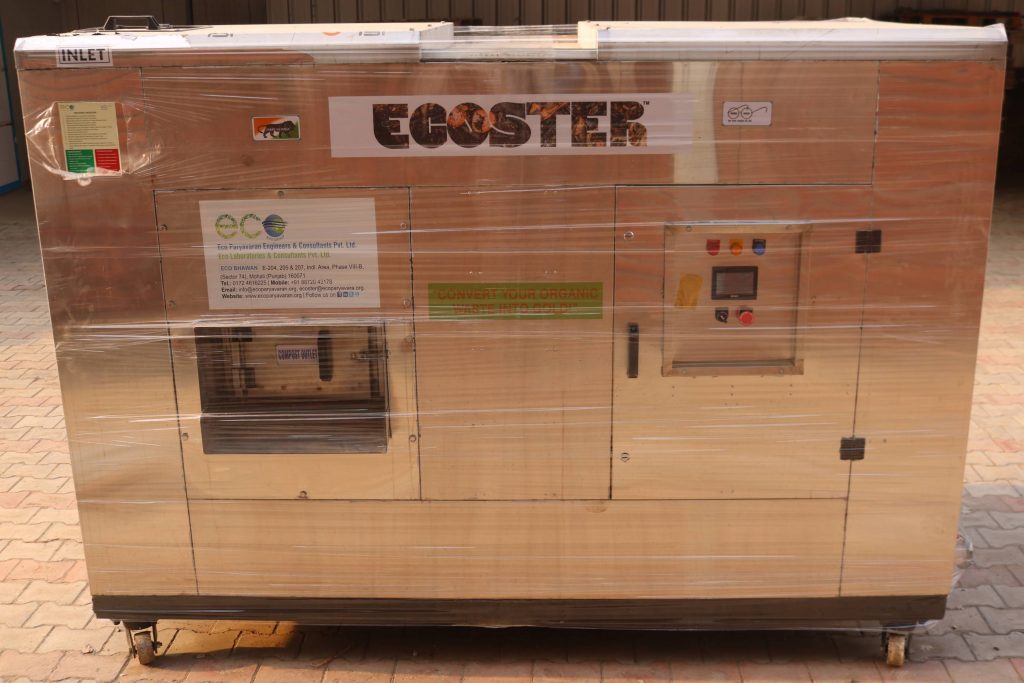 Organic Waste Composting Techniques
There are many type of composting techniques. We are providing In Vessel composting technology in our Organic Waste Composting Machine.
In Vessel Composting :- A process in which compostable material is enclosed in a drum, bin, silo, tunnel, or reactor for the purpose of producing compost, maintained under uniform conditions of temperature and moisture.
Used forced aeration and/or mechanical agitation to control conditions and promote rapid composting.
Advantages of In-vessel Composting
No Effect of weather
Less manpower is required to operate the system.
Can often be done onsite, saving collection costs.
It can leading to faster decomposition and more consistent product quality.
Processed air and leachate can be more easily collected and treated.
Process Explained: How Organic Waste Is Composted With ECOSTER
Check that the shredder feed / discharge is clear before feeding material.
Increased feed rate gradually until rated capacity is reached.
As per the requirement add accelerator and adsorbent.
ECOSTER compost machine processes the waste into homogenized flowable raw compost.
Mixing and curing is automatically done by the machine.
Your compost is ready after 4-5 days.
FEATURES OF ECOSTER Waste Composting Machines
ECOSTER Organic Waste Composting Machine treats organic waste by both mechanical as well as biological treatment using state of art Bio-N Culture.
Bio-N Culture is a mixture of unique, non pathogenic, very fast degrading ; aerobic, anaerobic, facultative bacteria, yeast and fungi.
With ECOSTER, the net co2 emissions are reduced thus decreasing the carbon footprints.
Eco composter helps reduce the load on landfill and thus makes the project more environment friendly.
Request Quote
You are just one click away from receiving a quotation from our sales team with reference to our Solid Waste Management solutions for your business!